The CEPS Young Thinkers Initiative
Bringing young people's voices to the European Policy scene
The Future of Europe is You
We are excited to announce the launch of CEPS newest initiative, CEPS Young Thinkers, aimed at bringing more diverse and younger voices into the European debate. The project will give young people a platform to express their ideas and bring fresh and innovative perspectives to the European policy scene.
We are looking for a group of 30 young thinkers from various academic fields who will form our Young Thinkers network and take part in a series of activities throughout 2021. Whether you're studying political science, international relations, philosophy, chemistry or architecture, if you're passionate about the future of Europe, we want to hear from you!
CEPS Young Thinkers forms part of a wider initiative, the CEPS Sustainable Diversity Goals (SDGs), an Open Society Foundation funded project, which aims to promote diversity in the field of research and make our policy events more diverse and gender-balanced.
To help us launch the call, CEPS has teamed up with the International Youth Think Tank (IYTT) to host a virtual event on 25 March: "Back to the Future: empowering the next generation of European leaders". The event will bring together young people with high-level speakers, including Heather Grabbe, Director of Open Society European Policy Institute , Cecilia Malmström, Co-Founder of the IYTT and former Commissioner to the EU, and MEP Daniel Freund.
The CEPS Young Thinkers at Ideas Lab
The primary activity of the CEPS Young Thinkers Initiative will take place online at the 2021 edition of Ideas Lab,  from 31 May to 4 June 2021. The group will participate in a parallel programme with the goal of stimulating debate, connecting young bright minds with today's leaders and envisioning the future of Europe. 
Gamification, foresight and experiments in co-design
The Young Thinkers will take part in guided foresight sessions, be amongst the first to test a new gamification tool and have the opportunity to present their ideas to policymakers in a high-level roundtable. The theme of the activities will focus on the Future of Europe and citizen engagement.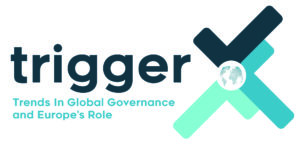 This initiative is conducted in cooperation with TRIGGER, an EU-funded project led by CEPS. TRIGGER aims at providing EU institutions with knowledge and tools to enhance their actorness, effectiveness and influence in global governance; and to develop new ways to harness the potential of public engagement and participatory foresight in governance decisions. Learn more about TRIGGER here.
Take part in one of Europe's leading policy conferences, with high-profile speakers and engaging sessions.

Actively participate in a stimulating debate through foresight sessions run by the Fraunhofer Institute for Systems and Innovation Research.

Be among the first to test an innovative mobile app which helps communities to envisage the future of Europe.

Participate in a high-level roundtable where you will present your ideas and proposals to influential European politicians and policy makers.

Attend a mentoring session from leading academics.

Meet and network with other young bright minds.

Become part of a pan-European, forward-thinking network beyond the Conference.

 
You are a student enrolled in an undergraduate, Master's or PhD degree programme, or graduated in 2020 onwards.
You are passionate about shaping the future of Europe.
You are committed to take part in five sessions of up to three hours during the week of May 31st to June 4th, 2021 (online) as part of CEPS Ideas Lab. Note that these sessions will mostly take place in the morning (Central European Time).
We are committed to bringing a diverse and inclusive group of bright minds together. In order to help us learn more about your backgrounds, please fill out the application form. 
If you have any questions regarding the call for application, please email youngthinkers@ext.ceps.eu
Good luck! Help spread the call by sharing this page on social media!